Just doing my undue diligence.
Recipes: Chocolate Peanut Butter Balls
---
Original recipe:
Editor's note: modern versions of this recipe are modified to use chocolate and chips without milk

PEANUT BUTTER BALLS
Royce's Favorite Cookies
10-10-1993

1/2 cup butter
2 cups crunchy or smooth peanut butter
1 lb. box powdered sugar
3 cups fresh Rice Krispies
1 8 oz. bar Hershey's Milk Chocolate
6 ozs. (Milk) chocolate chips
1/4 cake paraffin wax

Blend butter, peanut butter and powdered sugar together.  Mix in Rice
Krispies and roll into 3/4" balls and set aside.  In double boiler melt
chocolate Hershey bar, chocolate chips and paraffin (shaved) wax.  Turn fire
low and dip each ball.  Put on wax paper and let cool.  (I keep them in the
freezer just until time to serve and I think that they taste best them.)
Makes about 8 dozen.	

Royce loves these.  Once when he was about 10 years old, I had made up a
batch of these cookies and hid them outside in the bar-b-que grill so that
he wouldn't find them.  This was in the dead of winter in Anchorage so I
knew that they would stay frozen and good until I needed them for my
plates of Christmas goodies for friends and neighbors.  Much to my
surprise, all of the cookies were gone when I went to retrieve them.  Royce
had found them and ate every one of them.  (He said that he "only ate 5 or 6
a day!" until they were all gone.)  That's my BOY!!

Notes from observing Mom 2003-12-12

Part One: make the balls

- sift powdered sugar first
- knead in rice krispies with hands
- pinch krispies so they aren't whole
- add a little peanut butter if not holding
- added one soup-size spoons
- too sticky?  add powdered sugar
- this time, 1 cup adam's creamy, 1 cup adam's crunchy.
	mixed with mixer first.
- occasionally wash hands in hot water to improve rolling
- appear to be 9-12 grams per ball
- stephanie's observation closer to 15
- put in freezer to firm up.
	(divide in two sets to minimize thawing during dipping)

Part Two: coating

small sauce pan (20 oz?)
double boiler? - two pans.  outer pan full of water.
8 oz choc _ 6 oz chips ~14oz?
"Gulf Wax" brand paraffin (canning wax)
- shave with knife.  1-inch square total?
- slide off with small toothpick to minimize marks.
- fold chocolate _over_ ball, rather than moving ball.
- tap fork against edge of pan to settle excess chocolate
- spatula to consolidate chocolate
- leave half in freezer to keep cold to they hold firm during dipping

Notes from observation 2013-12-29

3 *level* glass measuring cups Rice Krispies (more than just a cup!)
first butter, pb, sugar
    mix
    then add rice krispies
(cut butter into pats first)
squeeze to break up rice krispies.
2 *level* glass cups powdered sugar
    (+ a little more)
add pb to add 'moisture'
add powdered sugar to remove 'moisture'
pb measurement is more exact.
shave the wax. 1/3 or so of 4oz block.
heat chock on about 4 (woodchase stove) whole time
keep cookie on end of fork

---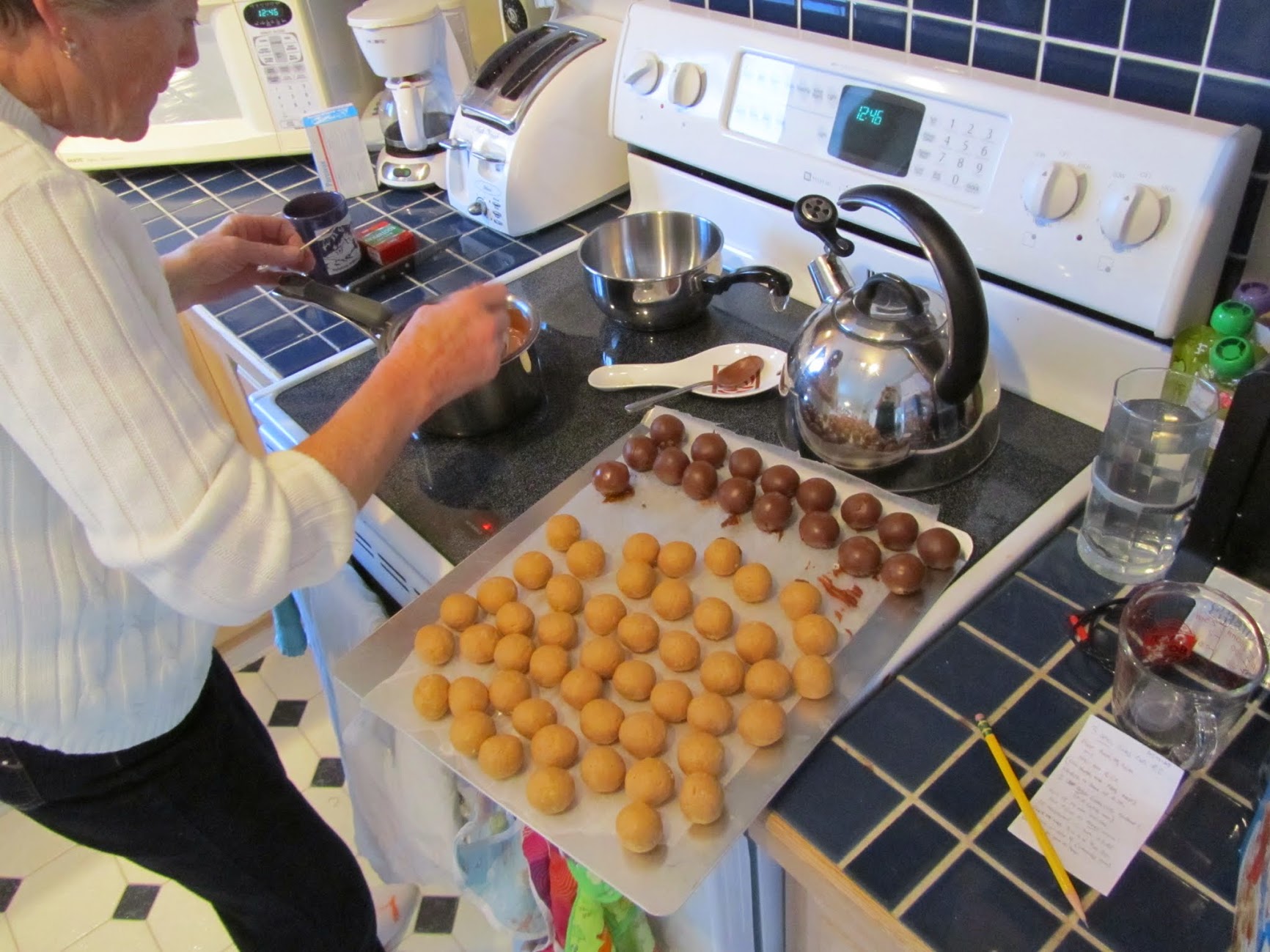 Mom makes a batch during a visit to Alaska, 2013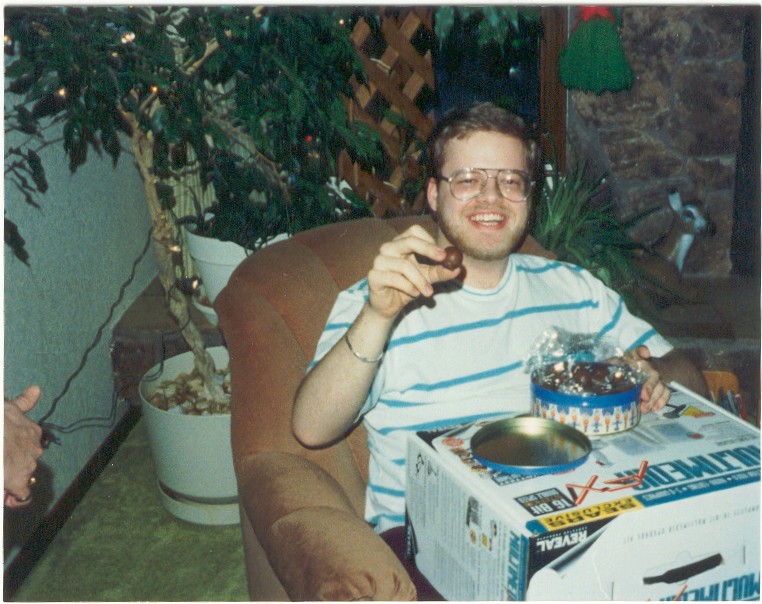 A surprise Christmas batch (after a long hiatus, due to "the incident")